Steem Engine上的掛鉤令牌 (Pegged tokens on Steem Engine)
看到有人問釘令牌,
當他使用固定令牌時,
他遇到了很大的困難,
我在這裡談論我的經歷。
我也回覆了他的文章,
因此有些內容將是相同的。
我用了1次釘住令牌,
當時,我只是進行了少量測試。
那時候,
官方剛剛推出了BTC,
我應該是第一個使用它的人,
我使用了少量測試。
---
固定令牌是Steem Engine上的令牌。
我曾經使用過BTCP(如果將BTCP移到外面,則稱為BTC)。
這里為您提供參考。
屏幕上的存款和提款
這是處理掛鉤令牌的地方。


我點了定金
出現此屏幕。
在下拉菜單中,
選擇比特幣(BTC),
我在一天內,
在Steem Engine的錢包中, 收到了一些BTCP。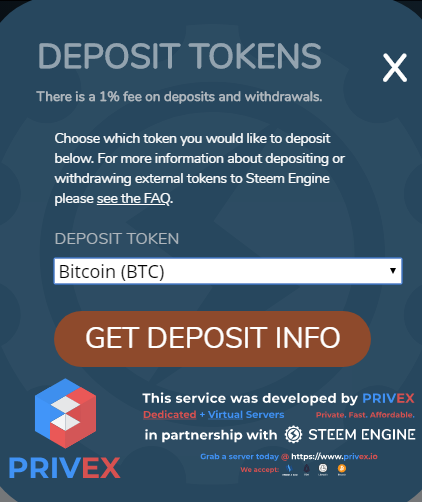 您還可以從steem-engine.com錢包將BTCP傳輸到外部。
您將在外部錢包中收到BTC。
使用提款。(我還沒提款過)
官方說明在這裡
https://steem-engine.com/?p=faq
https://steem-engine.com/?p=faq#collapse15
它提到您可以在這裡詢問。
https://discord.gg/xWRYB9s
我覺得使用它的這個功能,
我認為風險很大。
因為在頁面上,它寫道如果地址錯誤,他們將不負責任。
如果要測試,請使用少量。
或者您可以在這裡詢問https://discord.gg/xWRYB9s
---
---
Pegged tokens on Steem Engine
Seeing someone asking Pegged tokens,
When he was using Pegged tokens,
He have encountered great difficulties,
I am here to talk about my experience.
I also replies his article,
So there are some content will be the same.
I had used 1 time Pegged tokens,
At that time, I just entered a small amount to testing it.
At that time,
The official has just launched BTC,
I should be the first person to use it,
I used a small amount of testing.
---
Pegged tokens are tokens on Steem Engine.
I had used BTCP ( if taken BTCP to outside , it as BTC).
here provide you with reference.
DEPOSIT and WITHDRAW on the screen
It is the place to process Pegged tokens.


I ordered DEPOSIT,
This screen appears.
In the drop down menu,
Choose Bitcoin (BTC),
I am within 1 day,
In the Steem Engine wallet had Received some BTCP.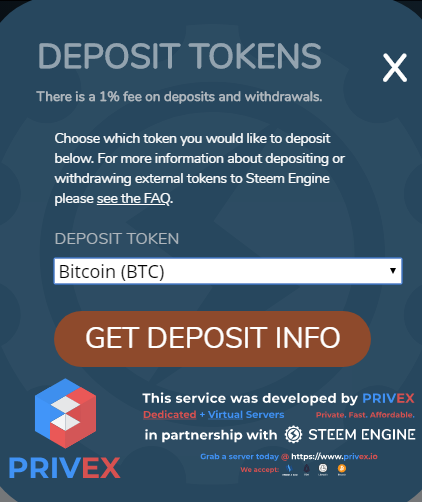 You also can transfer the BTCP to outside from the steem-engine.com wallet.
You will receive the BTC in your external wallet.
Use withdraw. (I haven't checked withdraw yet)
Official instructions here
https://steem-engine.com/?p=faq
https://steem-engine.com/?p=faq#collapse15
It mentioned that you can ask here.
https://discord.gg/xWRYB9s
I feel use its this function,
I think the risk is quite big.
Because on the page, it write that if the address is wrong, they are not responsible.
If you want to test, please use a very small amount.
Or you can go here and ask https://discord.gg/xWRYB9s